We have a wide range of Leather & Fabric beds to suit every style call us on +353 (0) 090 6634986 or email beds@mcnultyfurniture.com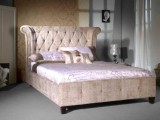 Epsilon Mink Fabric Bed
The Epsilon Mink Fabric bed is a majestically designed bed frame with a tall hotel style headboard which ensures it is the main focal point in any bedroom. The Epsilon Mink Fabric Bed is upholstered in a luxurious velvet fabric and has a sprung slatted base for optimum comfort.
Measurement: Available to order in 4'6", 5' or 6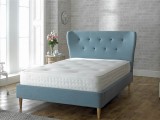 Aurora
A beautiful urban chic designed bed frame, The Aurora Fabric Bed Frame is available to order in a beautiful duck egg blue fabric with an eye catching winged buttoned headboard. The Aurora Fabric Bed Frame features a sprung slatted base.
Measurement: length 204cm - width 162cm - headboard height 123cm - footend height 37cm - undebed clearance 16cm