We have a wide range of Bunkbeds to suit every style call us on +353 (0) 090 6634986 or email beds@mcnultyfurniture.com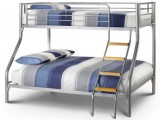 Atlas Triple Sleeper
A sturdy metal triple sleeper that features a single 90cm bed on top and a double 135cm bed on the bottom. The Atlas incorporates solid wooden ladder rungs into the sleek design.
Measurement: 199cm L x 155cm W x 156cm H 155cm Width Includes Ladder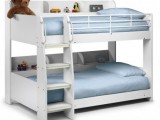 Domino Bunk Bed - All White
The Domino Bunk in Stunning All White finish is an attractive piece in any child's bedroom. Unique to this product is the additional shelving along the back of each bunk to give that much needed additional storage space.
Measurement: 199cm L X 137cm D X 161cm H